Poniższe wieści z globalnej wioski pochodzą z 69-tego numeru Nexusa.
Jego wydawca (Agancja Nolpress) ma stronę internetową zamieszczoną pod adresem www.nexus.media.pl
Ich e-mail to Ten adres pocztowy jest chroniony przed spamowaniem. Aby go zobaczyć, konieczne jest włączenie w przeglądarce obsługi JavaScript.
Telefon do Agencji Nolpress to 85 653 55 11
TANDETNA ŻYWNOŚĆ WYWOŁUJE UCZUCIE "SZCZĘŚCIA"
Producenci tworzą kombinacje tłuszczu, cukru i soli, które są tak smaczne, że wielu ludzi nie jest w stanie przestać ich jeść, nawet gdy są już syci.
Davis Kessler, były szef FDA (Food and Drug Administration - Urząd ds. Żywności i Leków), ostrzegł, że przekąski, płatki zbożowe i gotowe posiłki są tak projektowane przez specjalistów od żywności, żeby działały na ośrodki nagradzania w mózgu w taki sam sposób, w jaki robi to tytoń. Jego zdaniem producenci dążą do tego, żeby u jedzących ludzi były poruszane "punkty rozkoszy" i żeby nadal czuli łaknienie.
Przeprowadzone przez Kesslera razem z naukowcami z uniwersytetu Yale badanie z wykorzystaniem techniki obrazowania za pomocą rezonansu magnetycznego wykazało, że około 50 procent ludzi otyłych i 30 procent z nadwagą jest podatnych na tak zwane "nadmierne pobudzenie".
- Właściwa kombinacja smaków pobudza dużą liczbę neuronów, powodując, że częściej one strzelają - stwierdził Kessler. - Nakaz jedzenia staje się silniejszy i motywuje jedzącego do stałego szukania pożywienia.
W innych badaniach naukowcy ustalili, że różne kombinacje tłuszczu, cukru i soli powodują uwalnianie neuroprzekaźników w mózgowych ośrodkach zadowolenia. Najsilniej działające kombinacje zawierały sacharozę zmieszaną z czekoladą i alkoholem, jaką można na przykład spotkać w takim deserze, jak tiramisu.
- Wielu z nas posiada coś, co nazywa się "punktem rozkoszy" - punku, w którym odczuwamy największą przyjemność ze spożywania tłuszczu, cukru lub soli. Dodawanie większej ilości cukru sprawia, że pożywienie staje się coraz smaczniejsze, aż do momentu osiągnięcia punktu rozkoszy, po czym staje się za słodkie i przyjemność się kończy. To samo dotyczy tłuszczu i soli - oświadczył Kessler.
Twierdzi on, że w optymalnym punkcie pokarm pobudza apetyt wielu ludzi zamiast go wyhamować.
(Źródło: The Sunday Times, 28 czerwca 2009, http://tinyurl.com/lzx5ph)
SPOŻYWANIE ALKOHOLU POWODUJE JEDEN NA DZIESIĘĆ ZGONÓW W EUROPIE
Jak wynika z najnowszych badań, jeden na dziesięć zgonów w Europie i jeden na dwadzieścia pięć globalnie jest spowodowanych przez alkohol.
Lekarze publikujący w magazynie Lancet twierdzą, że osoby pijące alkohol najczęściej umierają z powodu ran, raka, choroby serca i marskości wątroby.
Twierdzą oni, że ludzie piją alkohol od początków znanej nam historii, ale teraz jest to bardziej wyniszczające.
W Europie 10 procent zgonów jest następstwem picia alkoholu. Krajem, który przoduje pod tym względem, jest były Związek Radziecki, gdzie ten procent wynosi 15. Jeszcze wyższy procent zgonów jest w krajach rozwijających się, szczególnie w Azji Południowo-Wschodniej.
Autorzy twierdzą, że "globalnie wpływ alkoholu na rozwój choroby jest mniej więcej takich samych rozmiarów, jaki miało palenie tytoniu w roku 2000, przy czym największy jest w krajach rozwijających się". Podkreślają również, że większość dorosłych ludzi na świecie powstrzymuje się od picia alkoholu, zaś koszt picia alkoholu w kategoriach opieki zdrowotnej i szkód społecznych sięga jednego procenta produktu narodowego brutto w krajach o wysokich i średnich dochodach.
(Źródło: The Guardian, 26 czerwca 2009, www.guardian.co.uk/society/2009/jub/26/alcohol-disease-death-raye-europe)
NAŁADOWANE OCEANY - NOWA TEORIA MAGNETYZMU
Według nowych, kontrowersyjnych badań ziemskie pole magnetyczne traktowane od lat jako produkt wirowania stopionych metali wokół jądra Ziemi może mieć związek z prądami oceanicznymi. Jeśli okaże się to prawdą, dojdzie do rewolucji w geofizyce, nauce badającej fizyczne własności i zachowania Ziemi, której jednym z fundamentów jest założenie, że ziemskie pole magnetyczne jest generowane przez ciekłe jądro naszej planety. Pochodzenie tego pola było zagadką aż do początku ubiegłego wieku, kiedy to Albert Einstein oświadczył, iż zrozumienie tego zjawiska jest jednym z najważniejszych zadań nauki. To stwierdzenie sprowokowało dyskusję w następstwie której naukowcy zgodzili się, że magnetyzm musi mieć swoje źródło w jądrze Ziemi.
- Wszyscy to zaakceptowali, ale, prawdę mówiąc, nikt nie przedstawił na to dowodu - stwierdził Gregory Ryskin, profesor nadzwyczajny inżynierii chemicznej i biologicznej na Uniwersytecie Northwestern w stanie Illinois w USA.- To tylko pomysł, jaki akceptowaliśmy przez dłuższy czas, nie zadając sobie trudu, aby go zweryfikować.
Badania Ryskina sugerują, że ziemski magnetyzm jest w rzeczywistości związany z ruchem oceanu. Sól zawarta w wodzie morskiej pozwala jej przewodzić elektryczność, co oznacza, że w czasie swojego ruchu ocean generuje pola elektryczne i magnetyczne.
(Źródło: The Sunday Times, 14 czerwca 2009, http://tinyurl.com/noktwz)
KAMERY TELEWIZYJNE NIE ZMNIEJSZAJĄ PRZESTĘPCZOŚCI
Po tym, jak kilka lat temu wyżsi oficerowie policji stwierdzili, że kamery telewizyjne nie mają zasadniczego wpływu na przestępczość, grupa badawcza utworzona przez brytyjskie ministerstwo spraw wewnętrznych ustaliła, że ogromne nakłady finansowe przeznaczane na systemy śledzenia są całkowicie nieuzasadnione.
Przegląd 44 badań dotyczących CCTV (closed circuit television - telewizja przemysłowa) ujawnił, że ma ona pewien niewielki wpływ na przestępstwa popełniane na parkingach samochodowych, ale już żadnego na spadek liczby przestępstw w ogólności. To oznacza, że 500 milionów funtów wydanych przez lokalne samorządy na CCTV w dziesięcioleciu poprzedzającym rok 2006 poszło bardziej na śledzenie Bogu ducha winnych ludzi niż na zapobieganie przestępczości.
(Źródło: The Guardian, 20 maja 2009, www.guardian.co.uk/commentisfree/henryporter/2009/may/19/cctv-reduce-crime)
UTAJNIENIE INFORMACJI O SKAŁACH NADLATUJĄCYCH Z KOSMOSU
Najnowsza dyrektywa w sprawie polityki wojskowej nakazuje utajnienie obserwacji nadlatujących bolidów dokonywanych przez tajne wojskowe satelity oraz zabrania publikowania danych na ich temat.
Jednym z głównych celów tych satelitów jest wykrywanie próbnych wybuchów bomb jądrowych, natomiast śledzenie asteroidów i mniejszych meteorów wchodzących w ziemską atmosferę jest ich zajęciem ubocznym. Obecnie informacje o tych wlatujących i eksplodujących w ziemskiej atmosferze kosmicznych skałach utajniono.
- Ta zmiana polityki bardzo nas zaskoczyła - oświadczył jeden z naukowców prowadzących obserwacje tych obiektów. - To bardzo niefortunne, ponieważ istniała tu głęboka synergia... bardzo dobre porozumienie w sprawie współpracy. System polegał na podwójnej weryfikacji, co umożliwiało prowadzenie wielu prac naukowych, czego nie dało by się zrobić w innym układzie. To godna pożałowania zmiana polityki.
Naukowcy twierdzą, że zostaną zahamowane nie tylko badania zagrożeń z kosmosu, ale zmaleje także rozumienie przez społeczeństwo mających czasem bardzo dramatyczny wygląd eksplozji na niebie, co może prowadzić do wzbudzania niepotrzebnego strachu przed nieznanym.
- Dane o bolidach pochodzące z wojskowych źródeł lub urządzeń szpiegowskich miały ogromne znaczenie dla oceny zagrożenia zderzeniem - stwierdził David Morrison z działu Obiektów Bliskich Ziemi w należącym do NASA Ośrodku Badawczym im. Amesa, podkreślając, że jest to jego osobisty pogląd, a nie jako przedstawiciela NASA.
(Źródło: Space.com, 10 czerwca 2009, www.space.com/news/090610-military- fireballs.html)
BIG NEWS: The end for glyphosate 
Will you help us achieve a global revolution in the food chain? We're almost there, but we need your help. Thanks to the determination of each and every one of us, glyphosate could soon be banned for good.
H
Just last week the European Parliament voted on strong new legislation to increase transparency in our food, and to provide secret industry safety studies to the public! [1] Finally independent scientists will be able to scrutinise the studies before EU approval is granted.
This legislation didn't come about by itself - it's a direct response from the EU Commission to our European Citizens' Initiative (ECI) to ban glyphosate. Thanks to the efforts of every one of us in this community and our partners, we're now on the cusp of a global food revolution.
But it's not final yet, the last stage of this process is an agreement to be negotiated early next year. And there's not much time, because European elections are coming up quickly. [2]
That's why I'm asking for your support right now. None of us alone would have the power to fight back against the pesticide industry, but together we've beaten them and made our politicians listen to the public interest, not corporate interests.
Small, regular donations are what enabled our community to constantly put pressure where it was needed most along the way and allow us to act fast. Whether it's to commission the best independent scientists to check Bayer's dodgy "science", organise a last-minute big media stunt or organise mass actions targeting decision makers.
Will you become a regular donor to our community to help fund the fight against glyphosate?
Our community has been fighting against the likes of Monsanto, Bayer, and the pesticides industry since we were founded just three short years ago. We got the attention of the EU institutions and we roused an EU-wide public debate on glyphosate and pesticides, but the EU granted glyphosate's license an emergency extension. [3]
So in 2017, our community and partners decided to ramp-up the pressure and launch an official "European Citizens' Initiative" (ECI) to ban glyphosate. We collected the required 1,000,000 signatures in record time.
Together, our community and partners made the difference between glyphosate being granted the 15-year license that industry wanted, and the 5-year license they got. Our media stunts, phone calls and emails to national ministers held weight, and together we proved that our people-power was stronger than the corporate lobby.
But that wasn't all -- in an official response to our ECI, the EU Commission proposed this major change to EU General Food Law, to increase transparency in the food chain. [4, 5] And when corporate interests and the pesticide industry threatened to prevent more transparency, our community sprang into action again: we emailed our MEPs and signed a petition calling for precisely what industry fears most - transparency. This helped us win the vote last week, but only by a small margin.
Thanks to our community, our politicians heard our calls with polls, through the media, and in-person outside their offices. But to run such campaigns requires us to be able to react at the drop of hat and we can only do that thanks to regular donations. Will you help?
Today we should all feel encouraged, hopeful, and looking towards a global revolution in the food chain.
Thank you for being there at every stage in this struggle,
Mika (Bordeaux), Virginia (Madrid), Jörg (Lübeck) and the whole team at WeMove.EU
PS: Regular donors sustain our movement and give our community the independence and flexibility to put our resources where they matter most. Please chip in a small regular donation to help us get all the way there, so we can continue moving Europe together.
References:
[1] http://www.europarl.europa.eu/news/en/press-room/20181205IPR20935/food-safety-more-transparency-better-risk-prevention https://www.euractiv.com/section/agriculture-food/news/meps-ready-to-negotiate-efsas-transparency-rule-but-need-to-find-a-new-negotiator/ http://www.europarl.europa.eu/sides/getDoc.do?pubRef=-//EP//TEXT+TA+P8-TA-2018-0489+0+DOC+XML+V0//EN&language=EN
[2] The Parliament will now begin negotiations with the EU Council in what is known as "trilogues," because all three EU institutions take part and negotiate for the final law to be voted on by the Parliament. But there is very little time for these meetings to occur before Parliament's last session before the 2019 European elections.
[3] https://www.theguardian.com/business/2016/jun/29/controversial-chemical-roundup-weedkiller-escapes-immediate-ban https://www.euractiv.com/section/agriculture-food/news/commission-prolongs-glyphosate-licence-by-18-months/
[4] http://ec.europa.eu/citizens-initiative/public/initiatives/successful/details/follow-up/2017/000002/en?lg=en
[5] The Parliament also launched a committee on pesticides to review the EU approval procedures: http://www.europarl.europa.eu/committees/en/pest/home.html Monsanto lobbyists were also banned from the European Parliament: https://www.euractiv.com/section/agriculture-food/news/monsanto-lobbyists-barred-from-european-parliament/
You vs.plastic polluters
Will you help make sure we can plan the most effective campaigns to keep turning the tide on plastic pollution? Thanks to the determination of each and every one of us, plastic polluters will soon have to pay.
H
This week the EU institutions met for the final time to thrash out the ban on the worst single-use plastics. [1] It was the final stage in the negotiating process and it represents just how far we've come. From our 750,000 strong petition, to Monday's front-page newspaper ad asking the country holding the EU presidency, Austria, to back our demands. Together we've come a long way.
Just this week the EU decided that big companies churning out plastic to make more money are finally going to have to pay for the plastic pollution they put into our environment. [2]
It's taken many many months of work on this campaign, thousands of hours of campaigning and a strategy to make sure every decision maker in the EU saw our demands. It was only possible because hundreds of people in the WeMove community chip in a few euros each month - these regular donations are the key to being able to map out a long-term campaign strategy.
Our community is working hard to stop the tide of plastic pollution and protect our environment.
Will you chip in a few euros a month to make sure we can plan the most effective campaigns to keep turning the tide on plastic pollution?
Early on in the campaign, our community chipped in to put powerful billboards across Brussels showing the horrors of plastic pollution for our wildlife. Our community sent almost 100,000 emails to our MEPs, asking them to vote for a strong single-use plastics law. We've played the long game. And it's working.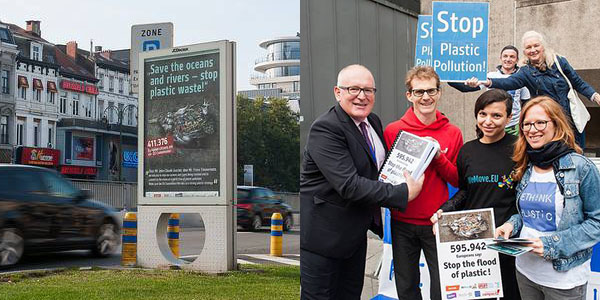 Last year: Our billboard campaign in Brussels, and delivering petition signatures with our partners to Frans Timmermans, Vice President of the European Commission
Please will you chip in to help us play the long game on other important environmental issues? The future of our wildlife is at stake:
Thanks to our community and our partners [3], our politicians heard our calls with emails, petition signatures, billboards, through the media, and in-person outside their offices. Now we can look forward to strong European laws that make plastic polluters pay!
Thanks for turning the tide,
Mika (Bordeaux), Giulio (Rome), Virginia (Madrid), and the rest of us at WeMove.EU
PS: Regular donors sustain our movement and give our community the independence and flexibility to put our resources where they matter most. Please chip in a small regular donation to help us get all the way there, so we can continue moving Europe together.
References:
[1] The Parliament has been negotiating with the EU Council in what is known as "trilogues," because all three EU institutions take part and negotiate for the final law to be voted on by the Parliament. The final trilogue is on 18 December.
[2] https://www.consilium.europa.eu/en/press/press-releases/2018/10/31/eu-acts-to-restrict-plastic-pollution-council-agrees-its-stance/#
[3] Including #Aufstehn, GLOBAL2000 (Friends of the Earth - Austria), SumOfUs, and countless others